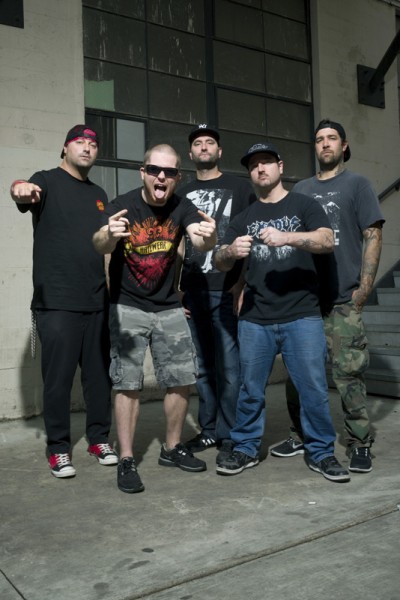 Ett av de större klassiska banden inom metalcore kommer äntligen till Sverige. Efter succén i somras på Getaway Rockfestival och för två år sedan på Peace & Love så ska Hatebreed äntligen göra klubbar i Sverige
Se till att inte missa detta tillfälle att se dem. En svettig kväll med moshpits och circlepits utlovas. 
—————————————————————————
2014
13 April – Brewhouse, Göteborg
14 April – Kulturbolaget, Malmö
15 April – Tyrol, Stockholm
—————————————————————————
Line up:
Jamey Jasta | vocals
Chris Beattie | bass
Wayne Lozniak | guitar
Frank Novinec | guitar
Matthew Byrne | drums
Hatebreed online:
www.hatebreed.com
www.facebook.com/hatebreed
www.twitter.com/hatebreed
Legacies become forged through consistency.
Relentless reliability is intrinsic to longevity in the music business—or any other business for that matter.
No giving up is allowed. No promise can go unfulfilled.
If people can depend on you, they'll believe in you and stick with you until death. Since forming in 1994, Grammy award-nominated hardcore and metal stalwarts Hatebreed have constantly crushed with every subsequent album.
Their six full-length effort and first for Nuclear Blast, "The Divinity of Purpose", proudly upholds that tradition cast in almost two decades of blood, tears, and flames. It's everything fans have come to expect from the Connecticut-based quintet. Be prepared to witness their flame rise high once again…
"The Divinity of Purpose" began to take shape in 2010. The band had welcomed back original guitarist Lozinak for 2009's covers set, For the Lions, and their self-titled fifth effort the same year.
During a two-year tour cycle, they expanded their global stamp through performing to rabid crowds in Southeast Asia, Eastern Europe, and South America. In addition, they ravaged the U.S. and Europe alongside the likes of FIVE FINGER DEATH PUNCH and LAMB OF GOD as well as on the Rockstar Energy Drink Mayhem Festival twice. However, they collectively decided to amp everything up for album number six.
"We were going for a bigger sound," affirms Jasta. "We reintroduced Wayne on the last album. He'd never been on a full-length record with us, and it felt like we had to prove ourselves again. We also tried to do things outside of our comfort zone musically on "Hatebreed". This time around, we played to our strengths as a band and gelled incredibly. The riffs had to be really heavy, memorable, and catchy. The rhythms needed to be pounding. I went back into drill sergeant mode vocally. I focused on saying what I had to say and got in and out. The music makes its point and leaves its mark. It's a tight snapshot of the last two years." In order to capture that snapshot, the group focused its assault during an intense and rigorous period of pre-production at home. Maintaining an impressive work ethic, they spent time honing their patented sound into an even more uncompromising and unbreakable beast. Co-produced by the band, Zeuss [SUICIDE SILENCE, ALL THAT REMAINS], and Josh Wilbur [LAMB OF GOD, AVENGED SEVENFOLD], "The Divinity of Purpose" sees HATEBREED at their most fierce and fiery.
Take the first single "Put it to the Torch." An avalanche of guitars pummels alongside staggering rhythms and a distinct bass wallop. Jasta roars with uncontainable intensity proclaiming, "Here's your apology. Here's to burning out and here's to fading away. Fuck you both. I just put it to the torch."
About the song, he divulges, "We didn't want to reinvent the wheel, but we wanted to make something heavy and aggressive with an old school vibe. We've faced an unusual amount of toxic energy over the past couple of years. It's important that you turn that negativity into a positive. That's always been the message of the band from day one. We can bottle that negative energy and use it as fuel. Sometimes, it gives you that push."
Speaking of a "push," "Honor Never Dies" steamrolls ahead with a propulsive riff and inspirational reflection on those who have served America. With a massive hook and deep meaning, it's also a fitting tribute to any fallen hero.
"Those lyrics came about right after my grandfather passed away," Jasta explains. "When I visited him in Veterans Administrative Hospital back in Connecticut, I'd see all of these vets & war heroes with purple hearts and other commendations hospitalized. The nurses told me a lot of those guys never get visitors. Some die alone in a hospital bed with no family or anyone else around. I'd spoken to some of them before my grandfather died. Luckily I got to be with him before he passed. I had to put that feeling into a song and now some of what I've taken away from that experience lives on through this. It's not just about our vets or my gramp but anyone who does something in service of others, they may not get the glory but their honorable actions live on through the people they help."
The title track also encapsulates something very crucial to the HATEBREED ethos within the framework of another explosive anthem. The frontman confesses, "Music has always been my purpose. When I became a father, my life had new purpose. Sometimes, you find an initial purpose, and then you find a new purpose as you grow as a person. When you find something you love that gives you fulfillment, it can be an almost divine experience. That's where we are going with this."
In 2012, they also found the perfect partner to release the album in Nuclear Blast. HATEBREED instantly felt home on their roster. "Heavy music is in a great place right now. There's a groundswell coming, and Nuclear Blast understands that and is on the cusp of it. They're all people we've been friends with too. It's onward and upward for us right now."
It's been a long road to "The Divinity of Purpose." Along the way, the band racked up sales of over 1.1 million records worldwide. They garnered a Grammy Award nomination for "Best Metal Performance" for "Live for This", and they've appeared at prestigious festivals including OZZfest, Download, and Wacken Open Air multiple times. Among numerous chart successes, their first-ever live DVD, "Live Dominance", debuted at #1 on the Billboard DVD chart, while HATEBREED hit #4 on the Billboard Indie chart.
Right now, HATEBREED's heart is beating stronger than ever, but that's nothing new. "HATEBREED has always meant the same thing to me," he concludes. "We maintain that anger and frustration, but it's not aimless. There's positivity to releasing that energy. It has a cyclical power. The fans that really vibe off it created everything we have. We've done things we dreamt of as kids because of our hard work and because the fans have gotten us to this global level. They give us purpose to make the most impact with our records that we can."
It's another chapter of HATEBREED's legacy.