When Swedish rockers ALFAHANNE burst onto the scene in 2010 it was with minds determined to bring back danger to rock n roll. Playing what the band calls "Alfapocalyptic Rock", which mixes Black Metal with Classic Rock and Punk, and good old Rock n Roll, ALFAHANNE has created their own style of music earning plaudits from critics and fans alike.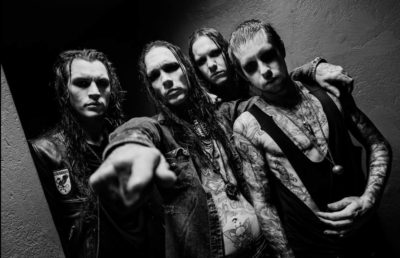 ALFAHANNE's stage debut came at 2014's Inferno Metal Festival where their show garnered them high praise. Since then they have been much in demand for club and festival appearances, playing such as Blastfest, Tuska, Øya and Incineration. Their high energy, exuberance, and easy going, friendly, interaction with the fans (both on and off the stage) make them guaranteed crowd pleasers.
Already released two albums Eskilstuna´s finest is now back with a new album. Once again exploring the darkness of mankind and continuing to widen their musical realms the new material will mark the beginning of a new era. The third album is truly a monster and it´s release will make it clear that ALFAHANNE is the new black…..
ALFAHANNE RELEASES
2013 – "Grym", split 7" with NIKLAS KVARFORTH's SHINING on Svart Records
2014 – "Alfapokalyps", debut full length album on CD and 12″ vinyl on Dark Essence Records
2015 – "Blod Eld Alfa", full length album on CD and 12″ vinyl on Dark Essence Records
2017 – "Det Nya Svarta", full length album on CD and 12″ vinyl on Indie Recordings