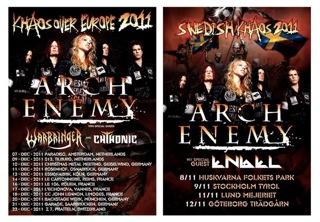 ARCH ENEMY, Dean Guitars & Rotosound Strings announce update on local support band contest for Khaos Over Europe tour: additional Swedish tour dates online!
Please note that Century Media Records has decided to change the times of the contest due to the summer holidays in Germany. Please make sure to update your sites with this updated version of the press release:
Swedish Metal legend ARCH ENEMY will soon be touring through Europe to present their new album "Khaos Legions" live on stage! Main support is coming from label mates Warbringer, Chthonic and Engel (Swedish dates only). And they would like to have YOU as a local support to bring the Khaos to the European clubs! Please note that this contest only applies for the tour dates in Germany, Switzerland & Sweden!
Angela Gossow comments: "We are going out with a really cool package in Europe this December and would like to give an unsigned band the chance to get on the bill for one of the German or Swiss shows. The underground is alive and kicking, so show us what you got and send in your tunes! We are excited to get to know some new, hidden gems and talents!"
HOW DOES IT WORK?
QUALIFYING – submission period extended until August 31st
Head over to www.khaoslegions.com/bandcontest to submit your band. You can only apply for one city only.
ROUND TWO – public voting period from September 9th – September 19th
For each tour date we will select 4 local support bands, which will get the chance to open for ARCH ENEMY if they win the public voting. The winning bands will be announced on September 26th and will receive detailed info from Century Media and the band's crew about the exact procedures on the show date. In case the winning band can't play the show (for whatever reason) the second winning band will be chosen.
Thanks to our dear partners in crime, Dean Guitars & Rotosound Strings, we will give away a Michael Amott signature Dean Guitar plus a set of guitar strings to the band, which has gotten the most votes in the public voting.
Please note the following main rules for any of the winning bands:
– all band members need to be over 18 years old
– you will be the opening band and your stage time is minimum 20 minutes
– you have to bring your own instruments and backline
– you will not receive any fee and neither Arch Enemy nor Century Media will pay for your travel expenses
– you will get one case of beer and basic catering at the venue
– you have to do what the tour manager is telling you because he's the 'king of the road'
Here are the tour dates where you can apply with your band for a local support slot:
09 Nov 2011 – Stockholm, Tyrol, Sweden
10 Nov 2011 – Lund, Mejeriet, Sweden
11 Nov 2011 – Gothenburg, Trädgårn, Sweden