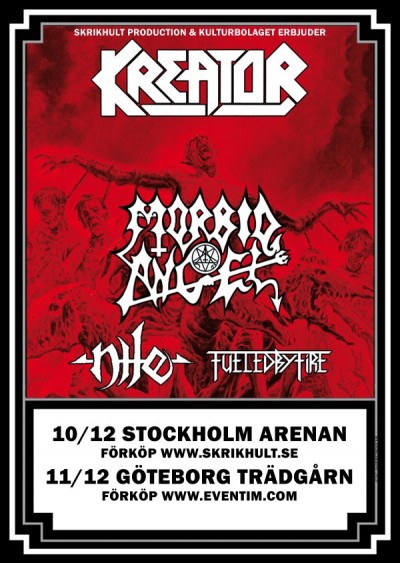 SKRIKHULT PRODUCTION & KULTURBOLAGET PRESENTERAR:
KREATOR – MORBID ANGEL – NILE – FUELED BY FIRE
Vissa turnépaket är legendariska långt innan den första showen har spelats – enbart på grund av en genialisk line up. I detta fall ger sig några av de största namnen inom extrem metal ut på en gemensam sväng runt Europa.
Tyska veteranerna KREATOR skapade med sin debut, "Endless Pain", nästan på egen hand den tyska thrash scenen. Alltsedan dess har de fortsatt att hålla genren vital. KREATOR är högaktuella med nya albumet "Phantom Antichrist" som släpps i dagarna
Amerikanska legendarerna Morbid Angel agerar co-headliners under turnén. Med album som "Altars of Madness" och "Blessed are the Sick" skrevs death metal historia. Nyligen släppte de den djärva "Illud Divinum Insanus" och de fortsätter att tänja på gränserna inom genren.
Support på turnén kommer från NILE, frontfigurer inom teknisk death metal. NILE är aktuella med nya albumet "At The Gate Of Sethu".
Denna grymma line-up kommer kompletteras med thrash från Kalifornien i form av FUELED BY FIRE, ett band som vet hur man frammanar den riktiga åttiotals andan.
Detta oheliga turnépaket kommer givetvis även till Sverige för konserter.
Datum:
10/12 Stockholm Arenan – Biljetter: www.skrikhult.se
11/12 Göteborg Trädgårn – Biljetter: www.eventim.com